"Food is my passion, which will be the driving force behind Tipsy Bear Bistro" stated Fred. Chef enjoy's a love for fine wines and will be offering wine for retail, as well as creating The Tipsy Bear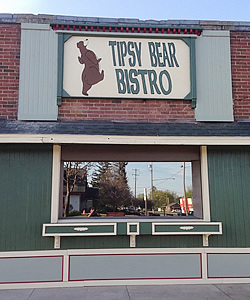 Wine Club, which will offer discounts on wine, no corkage fees, bulk case pricing, wine club parties and events, as well as cooking classes and wine tastings. If you want to know more information about any of the wines, don't hesitate to ask Chef Fred and he will be happy to answer any questions. In his thirst for education, Chef also received his First Court Level Master Sommelier title and has an extensive knowledge of all things wine. The restaurant will also be offering Chef Fred's favorite private backroom wines that will not be on the regular menu choices.
Tipsy Bear Bistro Wine Club...

We host our Tipsy Bear Bistro Wine Club Membership is free. You'll receive a membership card, which allows discounts when dining with us (excludes Wine Wednesday's or a Wine Tastings).

We have membership forms which can be filled out in house or you can sign up below. Thank you!
Our search for our wine club selections never ends.

A range from small plates to elegant inspired entrees.

M - Thursday - 11am to 8:00 pm

Fri - Sat - 11am to 9:00pm